England's Orpheus, or the festive finale of a year with.....Iestyn Davies
December the 5th is St. Nicholas' Eve. In several parts of Europe, particularly
in the Netherlands and Belgium, it's more important than Christmas, especially
for children who try to behave well to receive fancy presents from the Good Saint.
On that very evening, Iestyn Davies (countertenor) and Elizabeth Kenny (lutenist)
would give an intimate lute song concert at Shoreditch Church (St. Leonard's) in London. Early music lovers might hardly imagine any better treat than this.
So I flew away from the warmth and cosiness of festive event in Holland to attend
the concert to celebrate the finale of an extraordinarily musically fruitful year.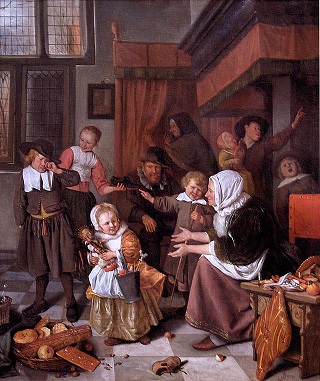 England's Orpheus
5 December 2014, Shoreditch Church (St. Leonard's)
Iestyn Davies (countertenor), Elizabeth Kenny (lute)
Purcell: Music for a While,
Sweeter than Roses,
A Song Tune (lute solo),
RIgadoon (lute solo),
'Tis Nature's Voice.
Dowland: Come Again,
Flow My Tears,
Semper Dowland, Semper Dolens (lute solo),
Now, O Now I Needs Must Part
[interval]
Dowland: In Darkness Let Me Dwell,
King of Denmark's Galliard (lute solo),
Can She Excuse My Wrongs?,
Sorrow Stay
Handel: O Lord Whose Mercies Numberless,
Non può mia musa,
Può te, Orfeo, con dolce suono, Dunque maggio d'Orfeo,
Ogn'un canti e all'Armonia
Robert de Visée: Prelude and Chaconne (theorbo solo)
Purcell: By Beauteous Softness,
If Music Be The Food Of Love,
An Evening Hymn
Encores:
Handel: Cor Ingrato from Rinaldo
Thomas Morley: Will You Buy A Fine Dog?
I have a kind of tendency to avoid concerts held at churches, as I'm rather
critical and sceptical about the acoustics in churches in general; in most cases
the choir sounds too solemn to understand what they are singing because of
echoes and reverberations. In order to prevent that kind of disappointment,
you have to take a seat as close as possible to the musicians, where you can
hear the sounds directly. So my friends and I started standing in front of the
church door 30 minutes before it opened, and could successfully get the best
seats on the front row.
Another threat to a church concert is rather low temperature inside; in winter
you might regret, if you don't dress like going out to watch a football game.
I remember a Bach concert at Our Lady's Church in Maastricht a few years ago;
the audience jumped up soon after the last tune had faded (it took some time
before all became quiet, as the reverberation time of that church was extremely
long), clapped shortly and rushed outside, instead of giving a usual standing
ovation. Our patience reached nearly the limit, and it was too cold to behave
politely. I still wonder how musicians and their instruments survived in such
extreme circumstances…..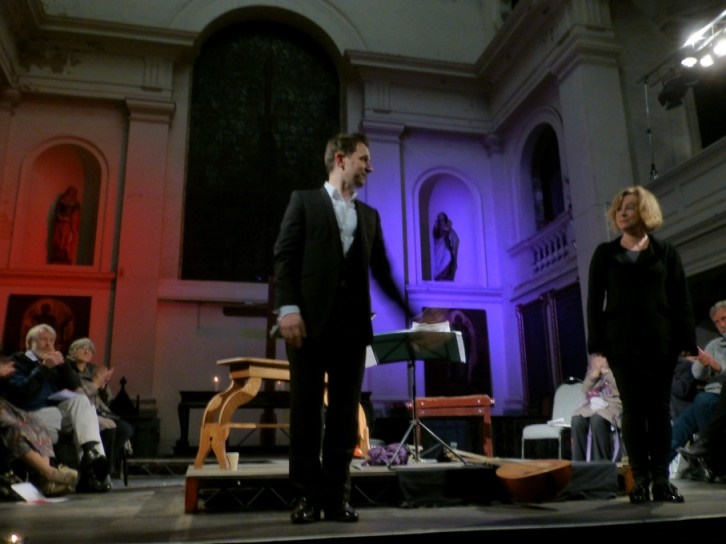 (photo courtesy of Peraperaopera)
The fully packed Shoreditch Church looks quite cosy with candle lights here and
there on the stage. There are even some seats set on the stage just surrounding
the artists like a shield or a wall, which, in my view, would be aimed to create
better acoustics.
The opening number of the concert is Music for a while. During last 12 months I attended 9 concerts and 3 operas in which Iestyn was involved and this is my
5th time to hear his singing this song live. Music for a while is obviously and
absolutely my favourite song from Purcell, and this time it is accompanied with
the lute. This combination results in plain beauty. I am so touched by the music
played by two artists who look totally devoted to entertain us in such a sincere way. This is the best Music for a while rendition ever, bearing a touch of loneliness,
despair and hope. I first try to keep myself calm but soon surrender and let my
eyes filled with tears. Later Iestyn sings Flow My Tears suitably with full essence
of melancholy.
(photo courtesy of Peraperaopera)
The second part after the interval starts with melancholic Dowland's In Darkness
Let Me Dwell. It is impossible not to be blown away, by hearing England's living
Orpheus singing this song. But he sings it without unnecessary pretension; yes,
which you can call the art of melancholy. I am particularly fond of the way he ends
the song suddenly with no display of sentiment, which is so effective, sensible and stylish.
Lutes and theorbo require tuning often, so Iestyn and Lizzy talk meanwhile about instruments, composers, their first collaboration some 20 years ago and so on.
(One of the CD booklets I brought to be signed is coincidentally the recording for
which they worked together when Iestyn was 13 years old. I asked them to sign
on it at the post-concert signing session. This is Iestyn's autograph, mocking as if
a 13-year-old boy wrote it.)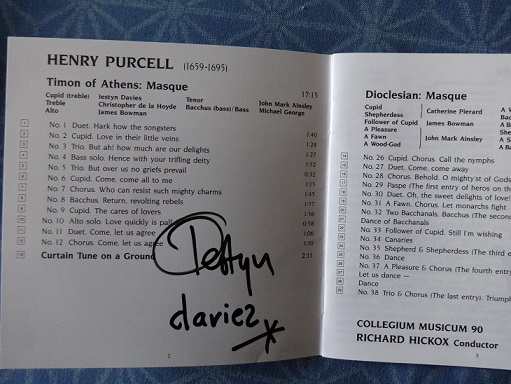 Lizzy plays some solo lute pieces, which also sound intimate and unpretentious.
Robert de Visee's works are not familiar to me, but they recall me a same sort of
delight as Dutch art of 17th century. Perhaps it's because of the composer's name;
Vise is the nearest Begian town just across the border from my place. Might his
family have come from Vise, or he himself have been born there?
Handel is honourably nominated as an English Orpheus in this concert. I don't
disagree, though he is totally different from the two former composers. I'm also
a Handelian and I always appreciate Iestyn's performing roles in Handel's operas
and oratorios, so it is more than welcome that Handel repertoire is included in
tonight's programme. Iestyn sings Non puo mia musa, which, to my surprise, seamlessly matches the rest of the programme, even though it's sung in Italian
with more vivid colours and lighter ornamentation than relatively monochrome
Dowland and Purcell songs.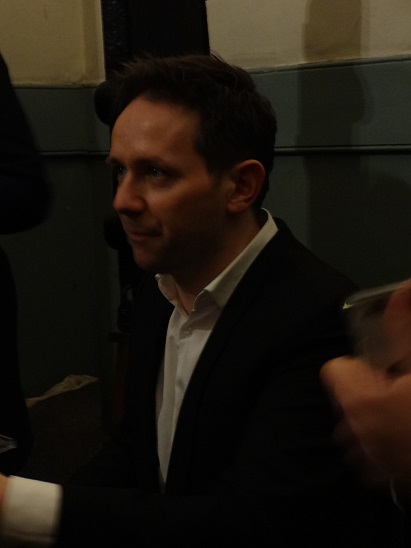 Purcell's Evening Hymn is a perfect song to finish a lute song concert; I never call
this song a tearjerker, but this time I can't help my lacrimal gland loosing. What a blessing.
There are two encore pieces: Handel's Cor Igrato from Rinaldo, and Thomas Morly's
Will you buy a fine dog? The contrast is huge:one is serious and the other is funny, which shows his versatility in wide repertoire. After attending this memorable, comprehensive and exquisite concert, I can't help feeling like listening to Iestyn's performing on an opera stage soon again.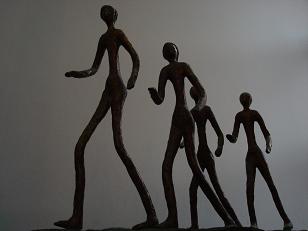 コンサート、オペラ、映画、着物、ヴァカンスなど非日常の悦しみをつづります。

by didoregina
プロフィール
名前:レイネ
別名: didoregina
性別:女性
モットー:Carpe diem

オランダ在住ですが、国境を越えてベルギー、ドイツのオペラやコンサートにも。
ハレのおでかけには着物、を実践しています。
音楽、美術、映画を源泉に、美の感動を言葉にしていきます。



最新のコメント
以前の記事
2018年 04月
2018年 03月
2017年 11月
2017年 10月
2017年 08月
2016年 11月
2016年 09月
2016年 08月
2016年 03月
2016年 02月
2016年 01月
2015年 12月
2015年 10月
2015年 09月
2015年 06月
2015年 04月
2015年 02月
2015年 01月
2014年 12月
2014年 11月
2014年 10月
2014年 09月
2014年 08月
2014年 07月
2014年 06月
2014年 05月
2014年 04月
2014年 03月
2014年 02月
2014年 01月
2013年 12月
2013年 11月
2013年 10月
2013年 09月
2013年 08月
2013年 07月
2013年 06月
2013年 05月
2013年 04月
2013年 03月
2013年 02月
2013年 01月
2012年 12月
2012年 11月
2012年 10月
2012年 09月
2012年 08月
2012年 07月
2012年 06月
2012年 05月
2012年 04月
2012年 03月
2012年 02月
2012年 01月
2011年 12月
2011年 11月
2011年 10月
2011年 09月
2011年 08月
2011年 07月
2011年 06月
2011年 05月
2011年 04月
2011年 03月
2011年 02月
2011年 01月
2010年 12月
2010年 11月
2010年 10月
2010年 09月
2010年 08月
2010年 07月
2010年 06月
2010年 05月
2010年 04月
2010年 03月
2010年 02月
2010年 01月
2009年 12月
2009年 11月
2009年 10月
2009年 09月
2009年 08月
2009年 07月
2009年 06月
2009年 05月
2009年 04月
2009年 03月
2009年 02月
2009年 01月
2008年 12月
タグ
カウンターテナー
ラファエル前派
アート
ヨハネット・ゾマー
ヘンデル
着物
マレーナ・エルンマン
コンサート
オペラ
バッコスの信女
パーセル
クイーン
ヨット
バロック
ルトガー・ハウアー
ダニエル・クレイグ
帽子
バッグ
映画
ヴィヴァルディ
最新のトラックバック
カテゴリ
全体
バロック
映画
オペラ実演
オペラ映像
オペラ コンサート形式
着物
セイリング
コンサート
美術
帽子
マレーナ・エルンマン
イエスティン・デイヴィス
クイーン
CD
20世紀の音楽
旅行
料理
彫金
ビール醸造所
ベルギー・ビール
ハイ・ティー
サイクリング
ダンス
ハイキング
バッグ
教会建築
カウンターテナー
演劇
未分類
検索
ファン
記事ランキング
ブログジャンル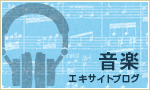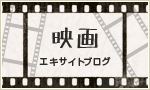 画像一覧